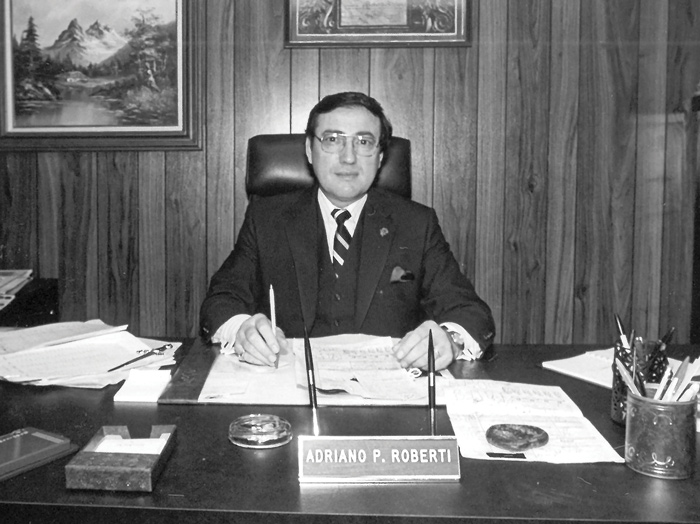 Founded in Rochester, New York, in 1962 by Adriano Roberti and Julio Volantere – both guild-trained, Italian immigrant Master Tailors – Adrian Jules now ranks as the longest-running, family-owned maker of men's and women's custom-bespoke, made-to-measure and RTW clothing in America. Currently, co-helmed by Arnald Robert and Peter Roberti, the second-generation sons of co-founder Adriano Roberti, Adrian Jules is retailed by some 200 of America's premier, luxury-niched specialty stores. The company is led by a luxury-appointed, flagship boutique in the heart of Rochester's premier shopping district.
One of two "Grade 6 Makers" remaining in America, Adrian Jules has won more Blue Ribbons for Excellence from the Custom Tailors & Designers Association (CTDA) than has any other American Clothing Maker.
Adrian Jules, Ltd., is headquartered in Rochester, New York, at 1392 Ridge Road East, 14621.
Adriano P. Roberti, at just 8 years old, makes his first pair of pants.
At 18 years of age, Adriano opens and operates his own tailor shop in his native home of Brescia, Italy.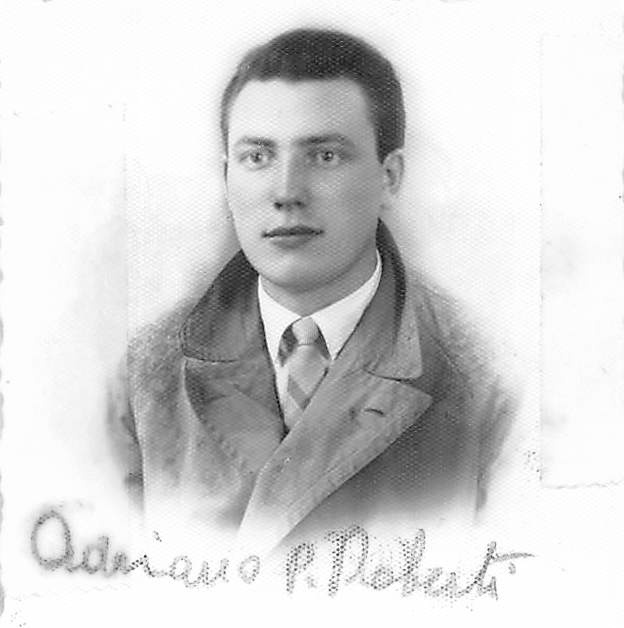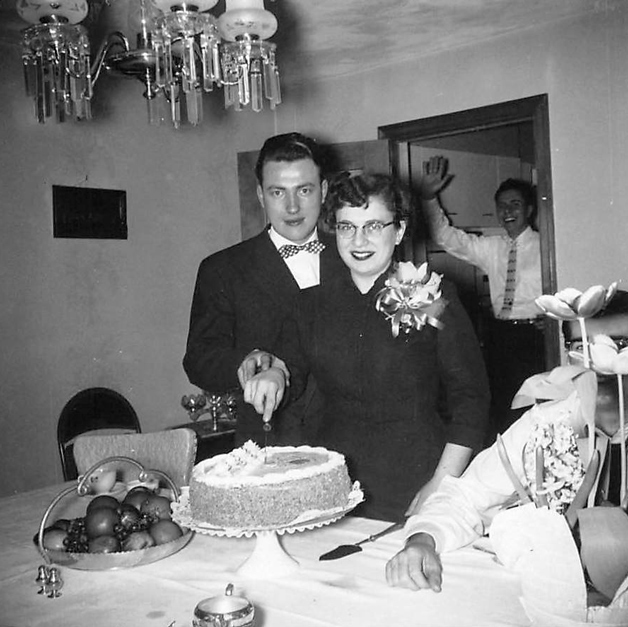 Adriano P. Roberti emigrates to the United States, leaving Italy with just thirty-three dollars of dimes in his pocket, yet all the determination to succeed, utilizing his skills and passion for designing and tailoring fine custom suits. The very same day he arrives in Rochester, Adriano begins working at Hickey-Freeman Corp, where he continued mastering his craft. Adriano is invited to Easter dinner by his friend Sam Benigni. At this dinner, Adriano meets the love of his life, Jean. Adriano and Jean are married a year later.
Adriano and his business associate, Guilio Volentare – (Jules), set out on their own and launch Adrian Jules. After working alongside and witnessing superb craftsmen shape cloth into fine garments with such simple tools as a scissors, needle, thread, tailors' chalk, and a hot iron, Adriano decides that the most important element in his company will be his personnel-craftsmen with the skill to produce a garment using only the basic tailoring implements. Mr. Volentare soon thereafter returns to Italy and Mr. Roberti continues at the helm of the new shop, originally on Portland Avenue in the City of Rochester, using the lessons he learned as a master craftsman and his experience as a manager. Mr. Roberti applies the assembly-line process of making custom suits to save on labor costs and begins wholesaling his suits to other custom tailors.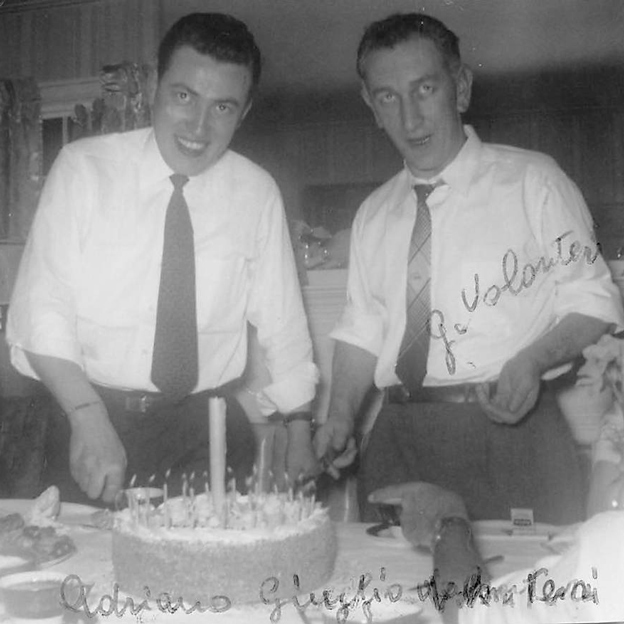 Adrian Jules moves its wholesale operations to its current building in Irondequoit, which was prior the Town Hall Building. The site has become one of Rochester's legendary landmarks.
Adrian Jules produces its world-class garments while providing the local community with livelihoods that allow them to raise their families and pursue the American Dream. Adrian Jules builds its reputation as one of the finest wholesale clothiers in America, combining Adriano's unparalleled skill and the finest fabrics available in world markets.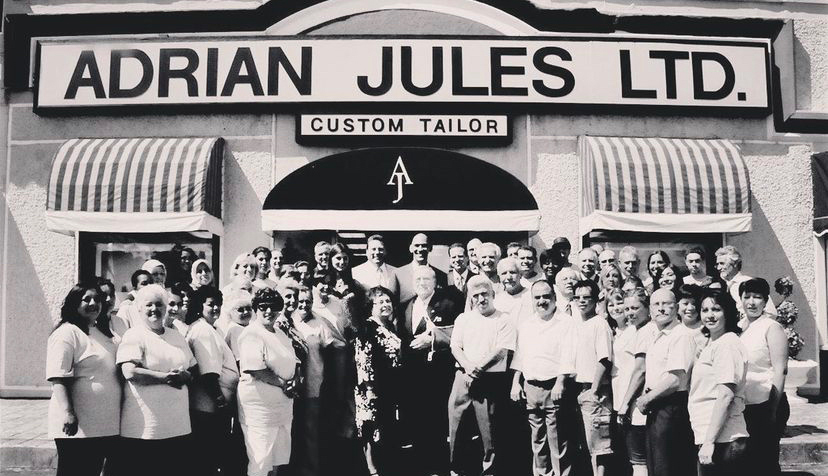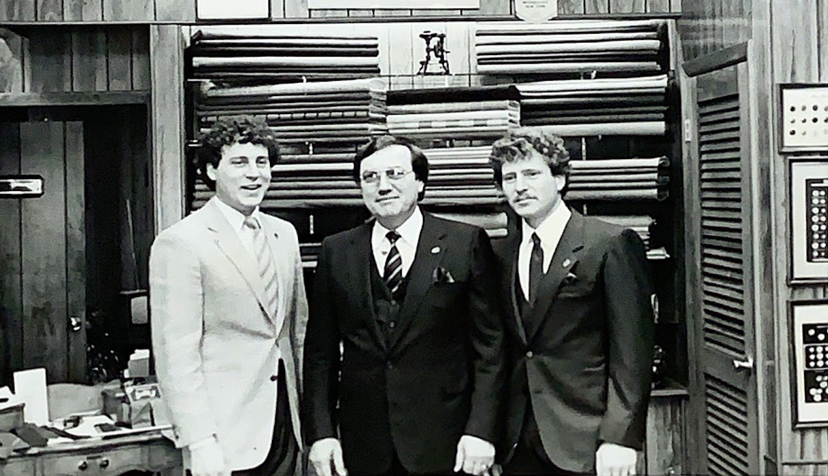 Adriano's sons Arnald and Peter become involved in the business and operations of Adrian Jules. Arnie pursues top clients and partnerships with the leading names in the industry, both domestically and internationally, landing Saks, Bergdorf-Goodman, Etro, and Loro Piana. Another is Alan Flusser, the famed Wall Street clothier. Adrian Jules dresses many of the cast in the Hollywood blockbuster Casino starring Robert DeNiro and Joe Pesci. Peter invests his formidable energy into growing the retail side of Adrian Jules. The initial retail service, Execufit, operates out of the East Ridge Road location. Peter and Arnie travel to their clients to provide fittings and material selection sessions.
Arnie and Peter officially take the reins of leadership after Adriano suffers a heart attack in 1992. Their sister AJ joins them as HR and Office Manager. Adrian Jules continues its ascent to the pinnacle of the customized clothing industry. The brand is well-known for its hand-crafted suits worn by celebrities, athletes, and movers & shakers, including three of the past six US presidents, movie stars such as Paul Newman, Sylvester Stallone, and Nicholas Cage, basketball legend Shaquille O'Neal, as well as many others.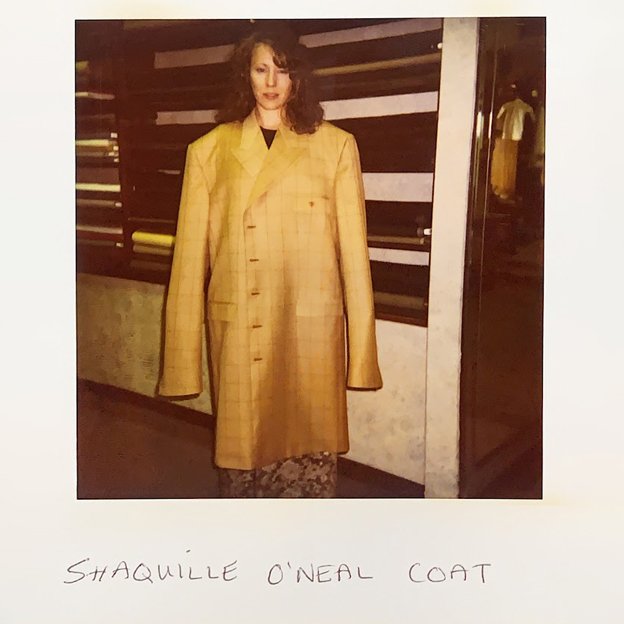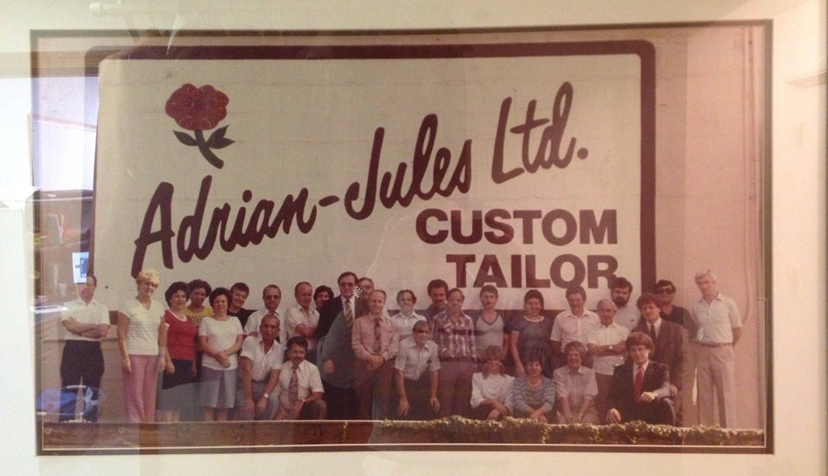 At age 14, Peter A. Roberti, son of Peter E., attends an industry show with grandfather Adriano in Las Vegas. They buy two bolts of fabric, one red and one black, and Peter A. begins to learn how to handcraft suits. He continues mastering the craft, working in the wholesale shop throughout high school. In 2007, the modern Adrian Jules experience hits full stride as its exclusive retail store is launched on Monroe Avenue, a luxury-appointed, flagship boutique in the heart of Rochester's premier shopping district.
The next generation of the family becomes deeply involved, continuing the evolution of business operations. While working on his Master's degree, Peter A. Roberti begins selling clothing in the Buffalo/Niagara market. He transitions to working with his father and becomes integral to the blossoming of the Monroe Avenue retail shop. Adrian Jules' reputation for providing customers with the finest custom-crafted suits and accessories is only rivaled by its legendary community support and civic-mindedness. The retail location hosts car shows and tasting events that become must-attend gatherings for many members of the Greater Rochester community. Director of Sales Alex Roberti leads the North American wholesale team with a focus on enhancing the B2B experience for clients while she drives strategy and market development. Manufacturing Manager Matthew Roides, Adriano's grandson – son of his daughter Maria – is pivotal in all aspects of the wholesale business from sales to technology, including new equipment tech, improved efficiencies, 3D technology, and CAD.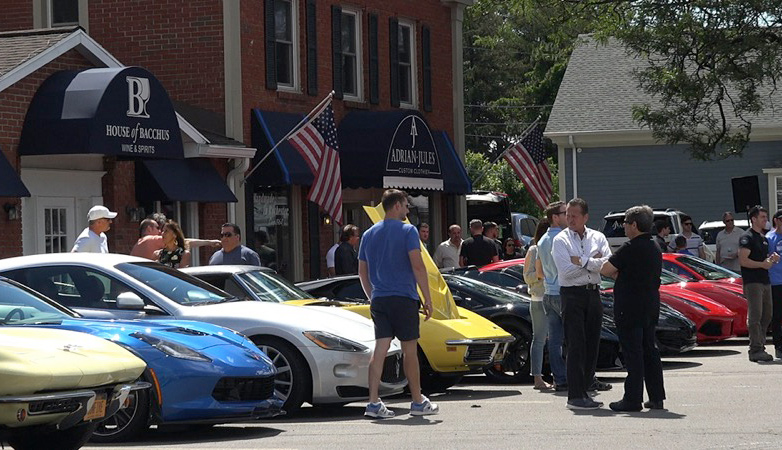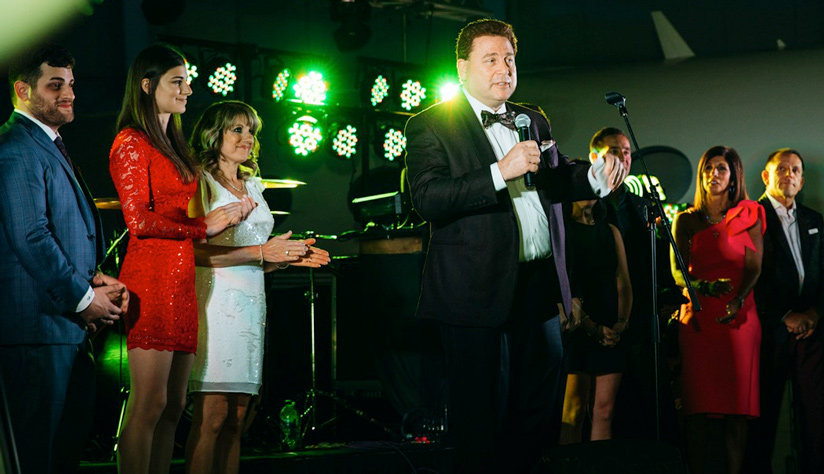 Adrian Jules' 55th Anniversary Celebration is an instant classic. Friends and family spanning more than half a century fill an air hangar on Scottsville Road, enjoying a fabulous evening of food, spirits, music and memories.
In September, the retail shop moves into a new Monroe Avenue location with a ribbon-cutting ceremony attended by dignitaries from Monroe County, the City of Rochester, and the Town of Brighton. Food, entertainment, and a 'blue-carpet' walk highlight the festivities. The new showroom honors the company heritage and continues to provide an inviting experience for customers. It serves as a bridge to the future with advanced technology, enhanced interactive styling platforms, a wider array of accessories, and an expanded lounge area for clients to relax or network while the Robertis and staff fit them for the perfect suit. The new location provides additional space for the many events Adrian Jules continues to host to raise funds for many deserving organizations.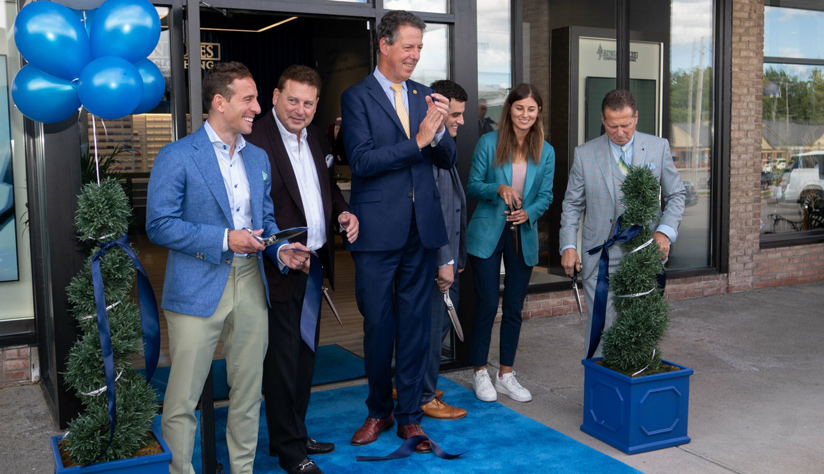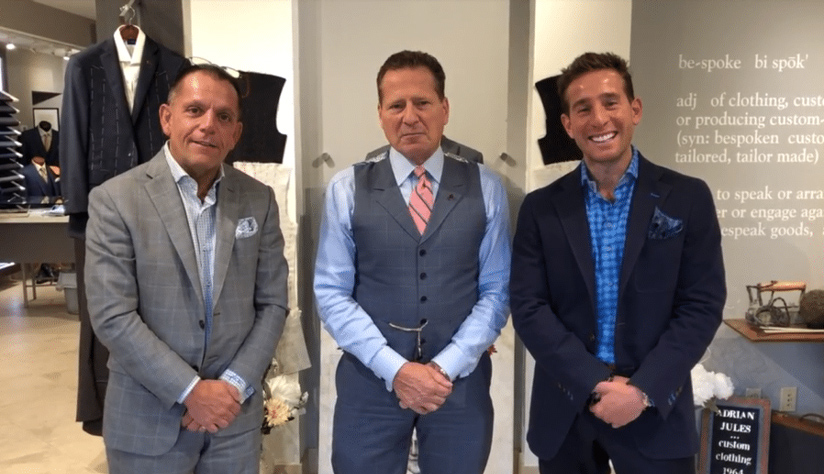 Adrian Jules now ranks as the longest-running, family-owned maker of men's and women's custom-bespoke, made-to-measure and RTW clothing in America, retailed by some 200 of America's premier, luxury-niched specialty stores. The spirit of family and friendship that the Adrian Jules' network has fostered is boundless. Many have been inspired to become part of this legacy of caring and its many charitable organizations. This list includes Rochester Fashion Week activities supporting the Center For Youth, GiGi's Playhouse Annual Dream Big Car Show, and Rochester's Endless Highway, among many others.
Patriarch Adriano P. Roberti, founder of Adrian Jules, made a promise to himself when he was still a young man in Italy: to create the finest custom clothing in the world. Today, under the guidance of his sons Arnald and Peter, his daughter AJ, and the next generation of the family, Adrian Jules Custom Clothier continues to keep that promise.