We are looking for experienced professionals to join our team.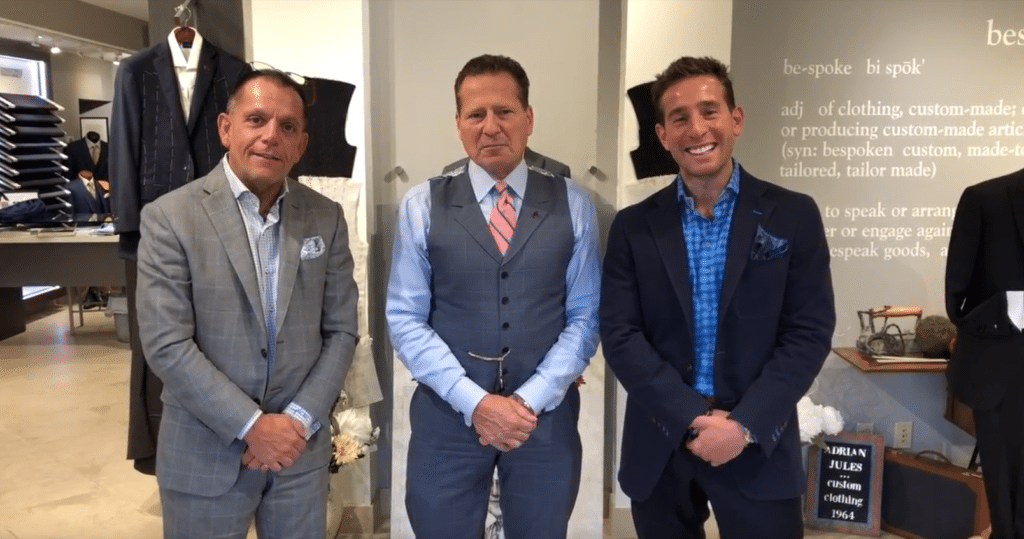 Founded at Rochester, New York, in 1962 by Adriano Roberti and Julio Volantere – both guild-trained, Italian immigrant Master Tailors – Adrian Jules now ranks as the longest-running, family-owned maker of men's and women's custom-bespoke, made-to-measure and RTW clothing in America. Currently, co-helmed by Arnald Robert and Peter Roberti, the second-generation sons of co-founder Adriano Roberti, Adrian Jules is retailed by some 200 of America's premier, luxury-niched specialty stores. The company is led by a luxury-appointed, flagship boutique in the heart of Rochester's premier shopping district.
One of two "Grade 6 Makers" remaining in America, Adrian Jules has won more Blue Ribbons for Excellence from the Custom Tailors & Designers Association (CTDA) than has any other American Clothing Maker.
Adrian Jules, Ltd., is headquartered in Rochester, New York, at 1392 Ridge Road East, 14621.
Adrian Jules Ltd., Rochester NY, was founded in 1962 by Adriano Roberti, master tailor and designer from Brescia, Italy. The company has been manufacturing the highest quality hand-tailored men's clothing and accessories for the finest custom tailors and specialty stores in the nation, providing "The Best Worn Secret in America" to its affluent clientele. The collective mission is to deliver unparalleled hand-tailored garments, crafted from the world's premium fabrics, uniquely styled for the client, and complemented by the skill of a Master Tailor with vast experience. As a Sales Representative of Adrian Jules Ltd., you can provide your clients with a complete custom-made wardrobe selection: suits, sport coats, trousers, vests, overcoats, formal wear, tuxedos and custom-made shirts with the addition of accessories. You will associate yourself with an elite clientele of business professionals and individuals who understand the importance of first impressions and their appearances: top executives, who are very selective, demand fine quality, appreciate outstanding value, and place the highest premium on their time. This position offers a lifestyle that provides an extraordinary opportunity to build relationships with some of the most influential and successful people in the Greater Buffalo region.
The Career
INCOME IN SALES – A "Rookie" can make $50K – $125K in his/her first year! However, 125k is not the max you can make! There is no limit on your income!
YOUR CAREER – You have the opportunity to build your own book of clients. You will manage your own clients with the help of the Adrian Jules team guiding/coaching you. This position is treated like a business; your performance will directly impact your income.
BENEFITS – Adrian Jules offers solutions to health benefits and retirement planning with a 401K.
REAL LIFE EXPERIENCE – We train and coach you to work with clients. You will be able to experience what it takes to build your own business.
RETENTION – This is a career! When a Sales Representative gets the taste of this lifestyle he/she is here for good!
ATTRIBUTES – Motivated, determined, goal-oriented and coachable.
Email your resume along with a cover letter to peter@adrianjules.biz