I joined the Adrian Jules custom clothier team after retiring from a department store retail career that began when I was 16 years old. That was thirty-nine Black Fridays ago, and even though I had the pleasure of retiring as a store-line VP from the company known for kicking off the holiday shopping season with a huge Thanksgiving Day parade, Black Friday #40 was not happening for me.
My relationship with Adrian Jules started as we prepared for our wedding! August of 2011, I was getting married just shy of my 50th birthday and my husband, who is seven years younger than I, finds far too much joy in throwing that fact around. How he manages to work it into casual dinner conversation so successfully and so frequently is beyond me. That said, we both knew this would be a once in a lifetime occasion and I wanted to feel great. We were familiar with Adrian Jules from events at Midtown Athletic Club and the showroom location. Jason and I were clear that we wanted custom tuxedos and that we would wear dinner jackets for the ceremony and black tie for the evening reception. I think I am the one that pushed for a "wardrobe change" that day. We scheduled a meeting with Peter Roberti, and his advice enabled us to capture our vision of the ultimate level of wedding style as we imagined it.
We held our wedding at a group of historic inns on the Finger Lakers. Jason and I decided that the wedding party would arrive in one boat and we would arrive with our "Best Women" in a vintage Chris-Craft. (For the record, we did this a month before George and Amal.) We worked with Peter and decided on custom dinner jackets in light blue and selected an English roses lining to honor Jason's homeland. Each of our Best Women is incredibly stylish, but we more than held our own next to them. While the men in our wedding party had been asked to wear something specific, we told the women to wear what made them feel best and most glamorous. The wedding party looked amazing and our dinner jackets were definite standouts.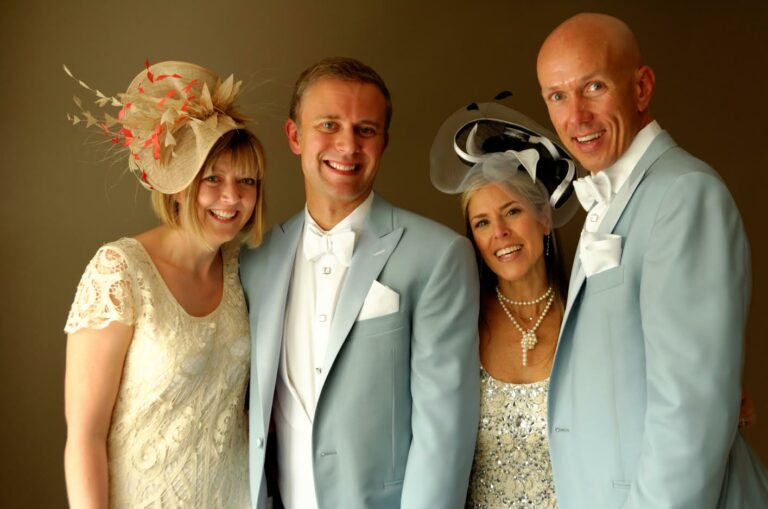 When we changed into our black tie, the custom bow ties, cummerbund that I wore and vest that Jason wore were made of a white pique fabric. The pique was the perfect selection for a summer wedding on the water. Peter Roberti made this suggestion, and I know that I would not have thought of that on my own.
Friends of ours that were in the wedding party gave us a great compliment about our decision to work with Peter at Adrian Jules. They said that looking at us made them realize that not wearing custom at their wedding was a mistake. They said we looked fantastic, and they knew our photos were going to be magnificent. My Best Woman told me that everyone was simply stunning, and it was the best looking wedding party she had ever seen. She added it was the best wedding she had ever attended…including her own.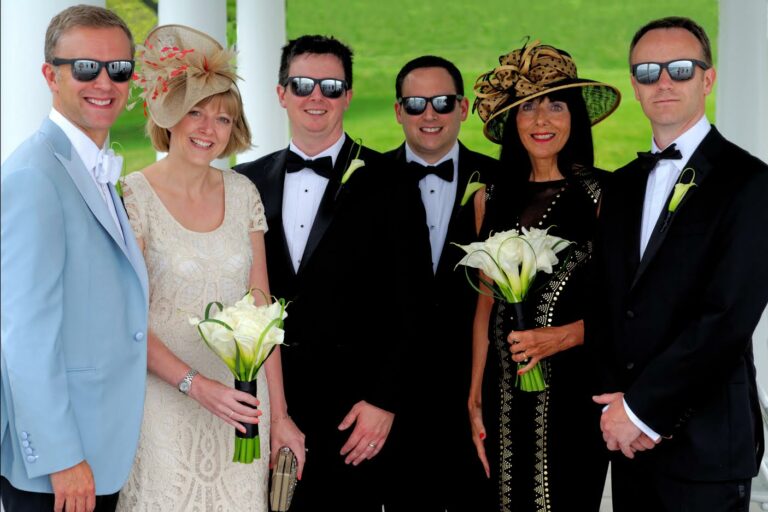 Whenever I see photos of that weekend or the garments hanging in our closets, I know that Adrian Jules was the right decision. We have remained clients and have made many purchases including suits for other friends' weddings since. We feel so strongly about Adrian Jules Custom Clothier and the experience that we had in the beginning, I joined the Adrian Jules' team. At our wedding, we made vows to one another and then celebrated our marriage. What's funny is that we also ended up in a relationship with Adrian Jules and the entire team. AJ makes a vow every time someone orders a men's custom garment, and everyone in that person's orbit gets to celebrate the man wearing something with an Adrian Jules label.
I view my role now as being a wardrobe specialist for the most important scenes in our clients' lives. Being able to extend the gift to others that Adrian Jules presented to Jason and me is gratifying beyond belief. In addition to professional satisfaction, I receive personal fulfillment knowing that I am doing more than a job. I am helping people craft a moment in time that will live on in vivid memories and captured images that they will always cherish.